A miter saw is an electric machine that is operating by hand all over the world. Despite that, it is sometimes called a miter saw machine. This may have to do with the design and the fact that the holder can be fixed in different positions. It is a simple construction where the saw can, if necessary, it can replace quickly and easily. This usually happens when the teeth of the saw have become blunt because of the sawing. This type of saw machine is not so cheap; it can be costly. So before going to buy a miter saw you must know how much is a miter saw. This price is varying from one brand to another.


How Much is a Miter Saw – Price Ideas
A miter saw is a versatile device that provides many services. Here is the price of the different types of miter saw on the market.
Manual Woodworking Saw Price:

Manual miter saws are saws that do not have a motor. It just requires physical effort on the part of the user to function. It is a rather rudimentary accessory composed of a sliding blade between two metal rods that are connected to a platform. Using this saw requires much effort and can be time-consuming. This is why we advise you to use it only for objects that are not at all thick. Manual saws do not require much maintenance and are the cheapest models on the market. They generally cost between $30 and $50
Standard Electric Miter Saw Price:

This type of machine has an electric motor. It consists of a platform on which you can place the disc of your choice. It is only necessary that the diameter of the blade is adapted to the plate. The latter is graduated to be able to perform more precise work. These are the cheapest models. With $50, you can afford one. The most expensive go up to $300.
Compound Electric Miter Saw Price:

The electric Compound miter saws are models practically similar to the standard electric models. The only novelty found in these saws is the ability to bevel objects. These types of saws are reserved for purposes that are not too thick. The cheapest models cost $ 70. To get the most powerful and precise models, you will have to pay up to $200 or even $300.
Sliding Compound Electric Miter Saw Price:

It is an advanced combination saw. Indeed, this type of saw is not only capable of beveling, but it is also designed to work on solid objects. These types of saws are the most expensive. They cost between $200 and $800.
Here are saws for all tastes and all budgets. All you need to do is go to a specialist store.
Miter Saw Brands Available on The Market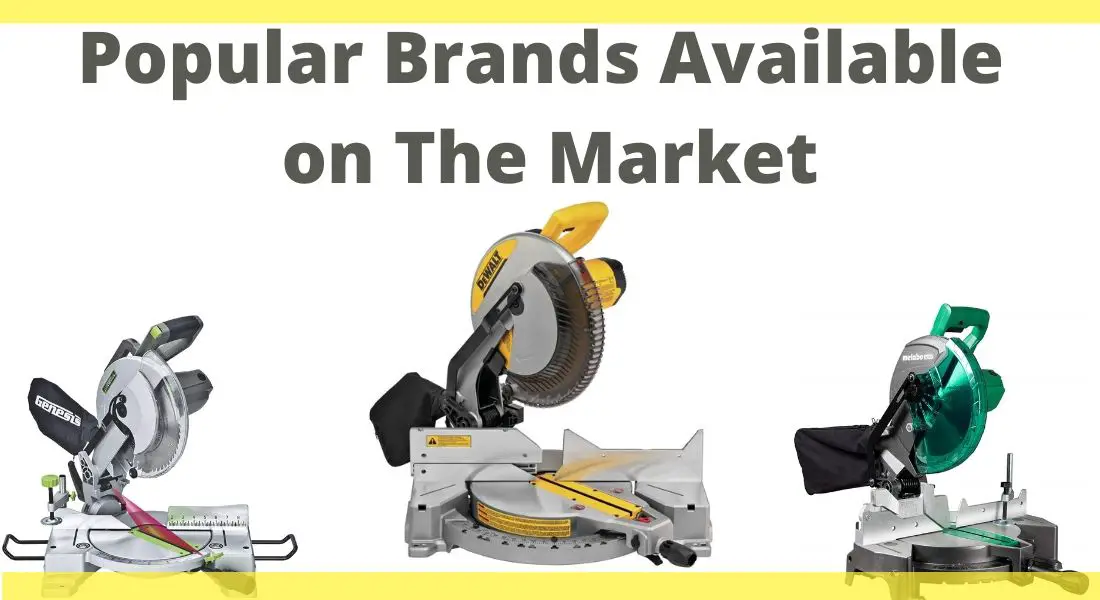 There are a lot of brands available in the market. Here we will provide you with different brands in various pricing lists.
1. BOSCH
This miter saw you can have from $190-$1000. Some models are Bosch GCM18V-08N, CM10GD, CM8S, GCM12SD.
2. MAKITA
This miter saw pricing is usually $250-$1000. Some model has a stand and some model comes without a stand. With Stand model is comparatively more expensive than without a stand. Makita LS0815, XSL08Z, 2414NB, LS1219L, LS1016, and XSL04ZU are some of the models available in the market
3. DEWALT
This miter saw pricing usually $200-$700. You can get this for your shop at the best price. With this robust and sturdy force and the capacity to ensure accuracy while you cut, this saw machine is the dream of each professional or DIYer. Some Dewalt models are Dewalt DWS 780, Dewalt DW 715, DWS 779.
4. HITACHI
You'll get Hitachi models from $170- $360. Some available models are, C10FSBP4, C12FDH, C10FSHC, C10FCG & C10FSBP4.
Final Verdict
A miter saw is a vital tool for recurring work with wood, and in particular, for laying parquet, paneling and terraces. There are a wide variety of models available on the market and their price range also varies from brand to brand and its features. We suggest that first of all, you find out for what purpose you need it. Specify your purpose and match up the specific saw that is available in the market and buy it.