Band saws enable one to cut materials of all kinds. You can use it for woodworking, lumbering, and metalworking. Of course, that's what Central Machinery Band Saw can offer you. The speed variation would aid you to cut with maximum flexibility. You can make curve cuts and all other sorts explicitly with this. Nonetheless, the band saw is constructed in a way that one can find easy to use for the execution of small and big projects. You'll get a central machinery band saw review from this article. Just check for more information below.


Central Machinery Band Saw Review | 5 Major Features: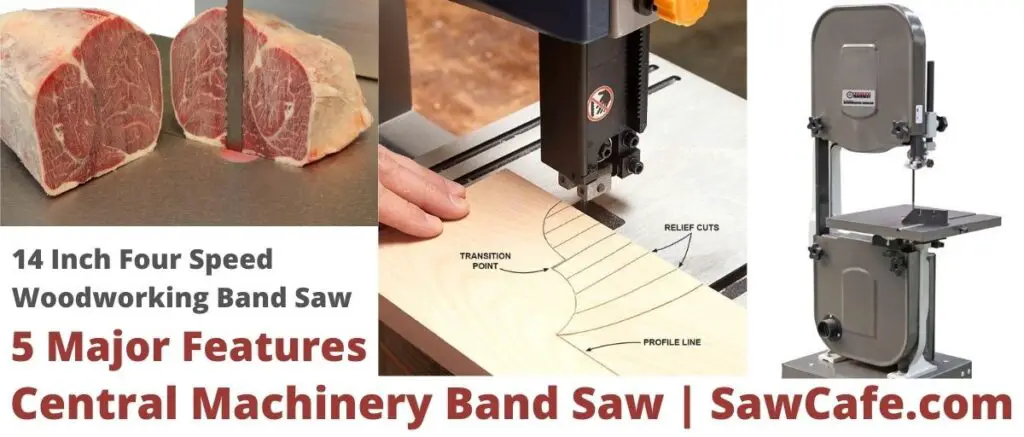 1.

4 Variable Speeds:
The blade on this can revolve in four different rates. The four rates that it revolves are 568, 1,080, 1,582, and 2,529 per minute. Also, there is a function on the machine that makes the frequency of the blade operable. You can even use your manual to identify the specified purpose.
2.

Table Tilt:
Users can tilt the table from zero degrees to 45 degrees. And guess what? It's doable with full ease. Unlike some units, this can cut woods, which thickness is close to 14." The table is cast iron and is not vulnerable to rust.
3.

Design:
Still, in its design, this has an ergonomic structure. The dimension of the table on the machine is 14″ x 14″. However, the size of the blade it uses is 93.5″ x 3/8″ x 0.02″. Besides, there shouldn't be difficulties mounting this when the manual is available at one's reach.
4.

Specification:
The depth of cut that this does is 6 inches, especially on metals. Aside from that, the height of the unit is 65," while the length is 19.5." The width, on the other hand, is 24.5." There is even a table slot on this that aids in the accurate measurement of the miter gauge.
5.

Space-Saver:
Check out the band saw from any angle, you'd notice that it's one you can use to maximize your spaces. The steel material used for it is well designed also.
Why Should You Buy Central Machinery Band Saw?
1. Power Tool:
This is a powerful tool that you can use in a stationary position. It saves you the stress of lugging the unit from one place to another. Nonetheless, you can still change its position.
2. Warranty:
The product comes with a 90-day guarantee. This is one that you can depend on the warranty for the purchase of this product.
3. Fascinating Looks:
The band saw looks appealing. The saw has an ergonomic structure and can easily be mounted with/without the aid of an expert.
4. Functions:
There is a power function on this. With the feature, you can determine its use. Although the material used for the construction of the band saw is metal, it provides the maximum safety needed.
5. Affordable:
The current price of this band saw is about $370. It has the full qualities that would make you enjoy it to the maximum. You'd find the features so complimenting on it.
Product Benefits:
The brand that made this is the central machinery.
There are four variable speed options on this.
You can tilt the table from zero degrees to 45 degrees.
This can make a throat depth of about 14 inches.
This comes with a 30-day warranty.
The pitched unit is one of the most reliable band saws that you can find in the marketplace. Therefore, seize the day and opt for this now.
FAQs:
Q: What are the benefits of using the Central Machinery Band Saw?
A: The Central Machinery Band Saw boasts many advantages. It allows you to make accurate cuts in various shapes and sizes, saving time by reducing trips to the hardware store. Its heavy-duty motor makes it able to handle tough jobs, while its adjustable settings allow for greater precision.
Q: What materials can the Central Machinery Band Saw cut?
A: The Central Machinery Band Saw is capable of cutting through a variety of materials such as wood, metal, plastic, and more. Depending on the material you are working with, it may be necessary to use specialized blades for the best results.
Q: How do I maintain my Central Machinery Band Saw?
A: To ensure that your Central Machinery Band Saw continues to operate at its peak performance, regular maintenance is recommended. This includes cleaning and lubricating the guides and wheels regularly and ensuring that all parts are properly tightened. Additionally, regularly inspecting the saw blade for wear and damage can help extend its life.
Q: Are replacement parts available for the Central Machinery Band Saw?
A: Yes, replacement parts are available for the Central Machinery Band Saw. These include saw blades, bearings, and other parts to help ensure that your machine is functioning properly at all times. You can find these parts online or at your local hardware store.
Q: Does the Central Machinery Band Saw come with a warranty?
A: Yes, a limited warranty covers the Central Machinery Band Saw and its components against defects in materials and workmanship under normal use and service for one year from the date of purchase. Please note that this does not cover misuse or abuse of the product. Be sure to keep your proof of purchase to prove eligibility in case you need to file a warranty claim.
Q: What is the best way to use my Central Machinery Band Saw?
A: To get the most out of your Central Machinery Band Saw, make sure to read through the owner's manual thoroughly before getting started. Additionally, it is important to take safety precautions such as wearing protective gear and maintaining a steady grip on the saw. Properly setting up the saw before each use can also help ensure you get accurate results every time.
Final Verdict:
the Central Machinery Band Saw is a powerful and versatile tool that can be used for many different projects. It has an adjustable cutting speed to meet your needs and its durable construction ensures it will last for years of reliable use. With careful maintenance, this band saw can provide precision cuts as well as large-scale jobs. For those on a budget, the Central Machinery Band Saw provides excellent quality at an affordable price making it an ideal choice for any woodworker or DIYer.