Expert butchers employ meat band saw to do their actions smoothly. Meat band saws are used to cut meat, and this work might be more difficult than it appears. The marketplace has a variety of equipment. Because of this reason, choosing the best meat bandsaw becomes difficult.
We have compiled a list of the top 5 best meat band saws available today with some information about them to assist you in making the best decision for your needs.
Let's go through the list-
1. Vevor 110V Bone Saw Machine.
2. Guide Gear Electric Meat Cutting Band Saw.
3. KWS B-210 Countertop Electric Meat Band Saw.
4. Professional Butcher Meat Cutting Band Saw.
5. LEM Products 688 Electric Meat Saw.
Review of 5 Best Meat Band Saws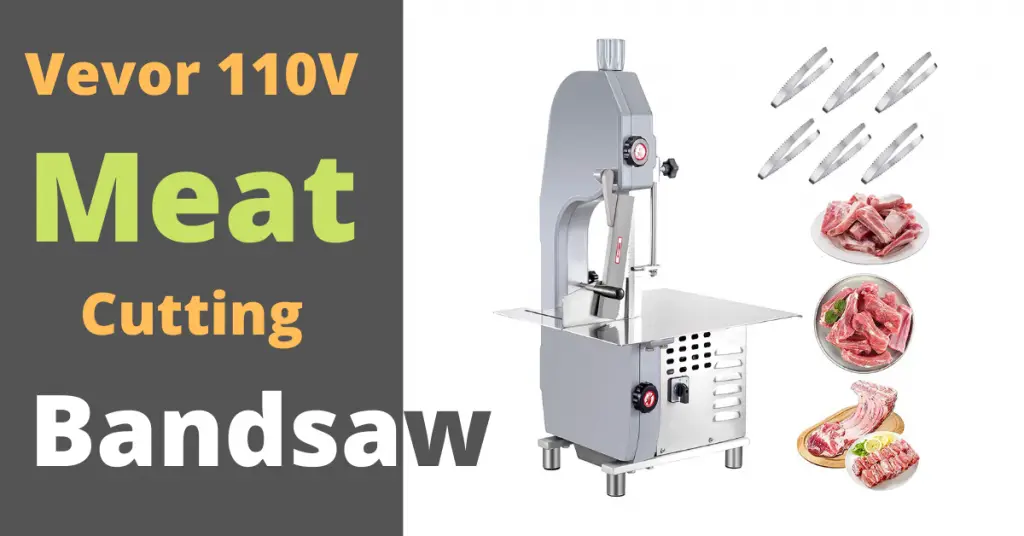 Specifications:
Blade Length: 95 Inches
Dimensions: 20.1 x 20.1 x 43.3 inches
Color: Silver
Power Source: Corded Electric
Power: 850W
Saw Blade Speed: 15 m/s
Saw Wheel Diameter: 8.27″ (210 mm)
Cutting Thickness: 0.16″-7.09″ (4-180 mm)
Cutting Height: 7.9″ (200 mm)
Horsepower: 1.2 hp
Key Features:
The Vevor 110V Bone Saw machine is one of the best meat band saws. It is regarded as the 'greatest all-around' offering.
It is a powerful piece of equipment with a premium saw blade tension mechanism and a meat-pushing slab.
This bandsaw is intended primarily for chopping frozen meat and bones into little bits and allows for stacking. Thus, the vevor meat band saw optimizes the blade's performance.
It can also pick up bone dust. Moreover, the bone-cutter has an emergency stop button as built-in safety sensors.
After opening the upper or lower covers, the machine will immediately stop operation.
You can easily clean this band saw as it meets conventional basic needs.
A direct gear drive transmission powers the high-quality imported saw blade, which cuts through bones at a 15m/s pace.
You will get a one-year warranty and a 30-days return policy with packaging.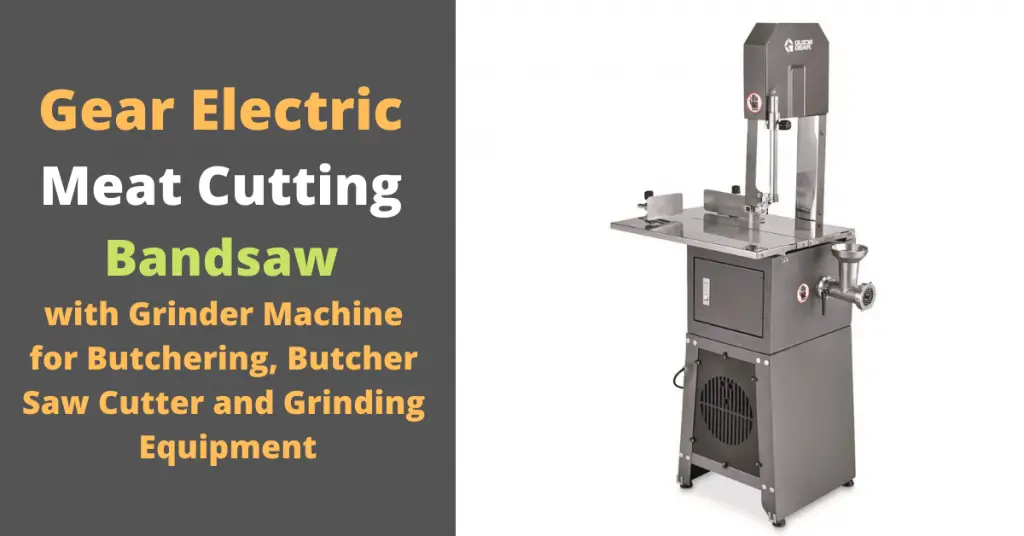 Specifications:
Dimensions: 38.5 x 19.25 x 17.25 inches
Color: Black
Power Source: Corded Electric
Number of Teeth:24
Material: Stainless steel, plastic
Motor: .75 hp
Key Features:
You can cut steaks, chops, and cubes quickly for burgers and sausages with this Guide Gear Electric Meat Cutting Band Saw. It will fit in your house without taking up too much room.
The steel structure of the bandsaw makes it sturdy.
Powerful 550W motor powers through bone and frozen meat to cut with ease.
It also has excellent safety features.
It is well-designed and portable.
This butcher saw has a simple front access panel that makes cleaning, maintenance, and blade replacement a breeze.
This guide gear meat band saw is regarded as a 'budget option.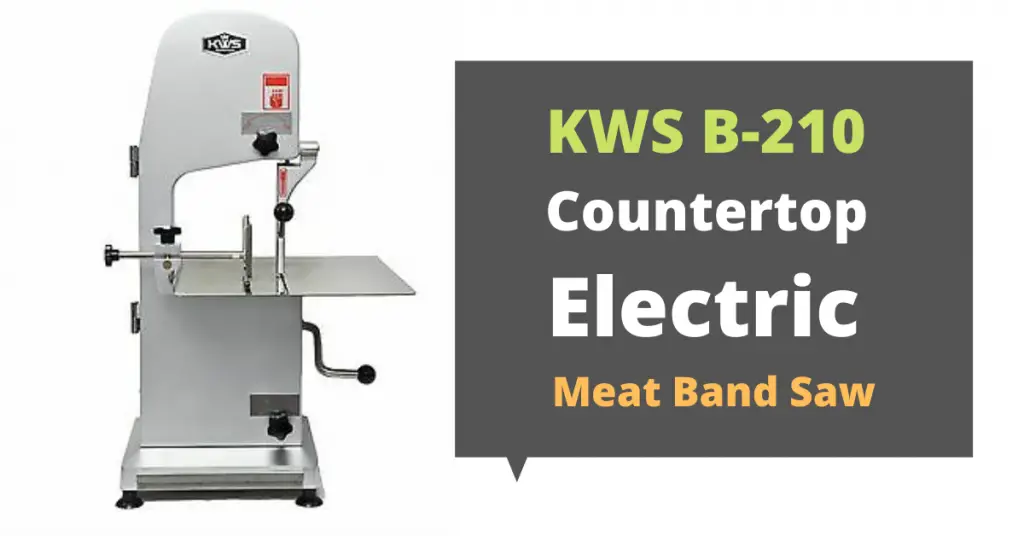 Specifications:
Blade Length: 15 Inches
Dimensions: 20.47 x 18.5 x 32.28 inches
Power Source: Corded Electric
Cutting thickness: 0.2″ – 6″
Power: 1900W
Torque: 2.5HP
Rotary Speed: 1420r/min
Voltage: 110V/60Hz
Electric input 1900W
Electric output 650W
Key Features:
You can efficiently cut through bones, frozen meat, fish, and more up to 6″ thick and 7″ in height with its 65″ length and.02″ thick saw blade.
The working table is composed of high-quality stainless steel, meets worldwide cleanliness standards, and has received CE approval.
The saw blade is solid steel made, ensuring robust and long-lasting performance.
It boasts an excellent engine that can cut through meat up to 6 inches thick.
This bandsaw offers superior protection whether the machine's outside shell is unlocked.
It emerges with an additional blade and is one of the simple maintenance processes.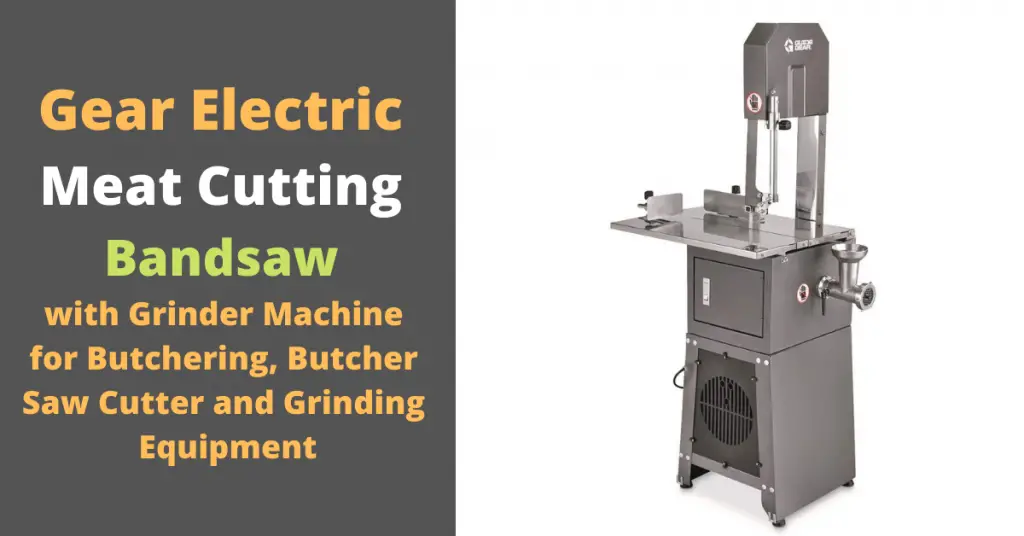 Specifications:
Power: 3/4 HP (550 Watts)
Motor: 5 AMP
Voltage: 110
Max Cutting Width: 9-7/8″
Max Cutting Depth: 9-7/16″
Overall Dimension: 25″ x 43-1/2″ x 58″
Key Features:
It's a robust system that meets all potential cleanliness requirements.
Because of its stainless construction, it is simple to clean.
It also comes with a sausage extension that simplifies preparing sausage.
It's handy, and it's possible to maneuver around.
You need to spend a lot of money to buy it.
The manuals are not excellent, and some individuals think they are of poor quality.
Specifications:
Power Source: Corded Electric
Dimensions: 46.5 x 19.5 x 19 inches
Weight: 135 Pounds
Wattage: 500 watts
Warranty Description: 1-year manufacturer warranty
Adjustable thickness guide: up to 8-1/2″ thick
Meat pushing guide; 110 volts 3/4 HP motor
Voltage: 120V
On the moving portion, insert chunks of meat up to 8″ tall; the 1/2″ stainless steel blade shreds through bone and muscle.
This LEM Products 688 Electric Meat Saw offers good precision.
LEM comes with a meat-pushing guideline and disassembles for ease of cleaning.
It gives high-level blades and specific instructions on how to use them.
The LEM 668 Meat Saw is economical, and so many experts and DIYers use it daily.
Unfortunately, this saw includes one blade; you'll need to get more blades to operate.
Factors Before Buying the Best Band Saw:
Before buying, a band saw, you should keep in mind some factors. Let's check-
Blade
The blades are essential for creating sharp angles. So, you should purchase a band saw with precise teeth. They need to be designed to have correct slices of meat.
Nevertheless, certain meat band saws feature multiple blades that make the saw pricey.
Motor Power
One of the most significant parts of the meat band saw is the motor. It is measured in amps and provides the blades with the necessary power to cut the required amount.
So, check the band saw carefully to ensure that the motor on your saw is powerful enough to complete your chores before purchasing it.
If you're going to utilize it for professional purposes, you'll need a high torque that can handle a lot of work.
Type
Before purchase, you should always evaluate the types of band saw. They are distinct, and all professionals employ both. Purchase the one that will assist you in completing your specific chores.
Capacity is significant because it indicates how much sawing a bandsaw can do in a specific duration.
Speed Control
If you want to chop meat, you'll need to work with various thicknesses. The best meat band saw won't just work at a set speed. Buy a bandsaw with adjustable speed options to choose from the speeds settings.
Regulate the speed to make good cutbacks. It will prevent to formation of undesirable patterns by adjusting the pace.
Furthermore, being able to manage your speed is always safer.
Material:
A perfect meat band saw is cast iron or solid steel made. It is essential to think about safety features before purchasing one as well.
Spare parts:
Inspect how much the spare parts of the band saw the cost.
Shop purchase is helpful because you can inquire about more specifics and pricing. You will need to do more research to make the best decision.
Cleaning process:
One of the most crucial characteristics of a meat band saw is its cleaning process.
The pleasant and convenient countertop needs to be washable. The sections of the bandsaw must be accessible to decrease the risk of accidents while cleaning the machine.
You'll be dealing with meat that necessitates a high level of cleanliness. A device that is easy to maintain is more ethical than one that is difficult to clean. As a result, you should always value this functionality.
We hope now you have sufficient knowledge regarding the 5 best meat band saws. So, think about the functions and responsibilities you can perform with the device.
If you plan to use it in a butcher's shop, you'll have to have a durable tool. If you want to use it at home for some Creative projects, you can get away with a less expensive one. Cut at the thickness you desire.