Cutting material at an angle is no longer just a matter of the most experienced handyman. With the advent of power tools, angle cuts become a simple matter. Everything is done by a miter saw but we do not have a proper idea about what is the best miter saw for home use. In Brief, a miter saw is a useful tool for making angle cuts on a wide variety of materials. So what can you use it for? For example, for billets of boards, beams, and planks, for finishing work when laying the floor, making the lining, and making your photo frames. A smart plumber can use it in a variety of piping constructions made of plastic or metal pipes. The predecessor of the electric miter saw, and still, in use today is the hand miter.
When it comes to a miter saw most people are confused and ask a common question that is, what miter saw do I need? In this article, you will find short reviews of the best miter saws in the market (which have been chosen based on parameters, tests, and user experience). I will also advise you about buying a guide - that is, what to look for when buying it. You will appreciate a few tips to help you work with the miter saw.
What is the best miter saw for home use: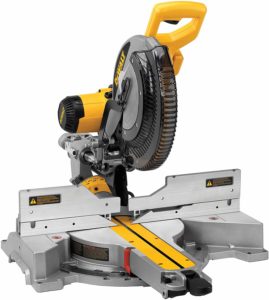 The DeWalt DWS780, 12-inch Saw, has been placed in the penultimate test position. Yet it can attract many properties and parameters. First of all, a solid 1700 W motor that can handle up to 3800 rpm, but also cutting capacity. Its vertical cutting capacity is amazing and super amazing dust collection capacity.
This saw uses a 250 mm cutting blade and allows longitudinal cutting up to 410 mm thanks to the guide system, pruning at 45 ° to 57 mm, at 90 ° 77 mm. The construction is very robust and allows precise and comfortable work. The total weight of the device is 24kg and all features come with extremely solid construction. Its power source is corded electric.
Features:
Product Dimensions 21.5* 17.7 * 17.1 inches
15 amp powerful 3800 rpm motor
Capture over 75% dust
XPS cross-cut positioning for free-cut line indication
Detent plate with ten positive stops productivity
45-degree miter cut capacity
90 degrees crosscut capacity
It comes with a dustbag, carbide blade, one blade wrench, and one vertical material clamp.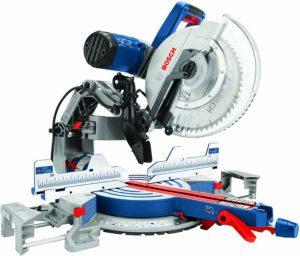 Bosch GCM12SD has smooth glide, enhanced alignment, and wider crosscuts. It provides accurate performance with its smooth cutting motion feature with a very large cutting capacity. With a super accurate durable design, it comes with several adjustable miter detents 0-60 degrees. It's sawing compatible with 12-inch blades. This saw provides such an easy adjustment with miter controls, detents at common angles, and an upfront bevel.  On the front of the saw bevel and miter, the control is located. For use, some minor assembly is required. It comes with built-in stock supports. It has a square lock 6.5 inches vertical against the fence feature and a 14-inch horizontal capacity. This is a saw that not only has much power, but it has durability and quality. It is the best miter saw on the market.
Features:
Miter capacity is 52 degrees left and 60-degree right
Bevel capacity is 47 degrees left and 47 degrees right
Power motor 15 amp. And 12-inch blade at 3800 rpm
D-shape handles designed for a lefty or righty
12-inch Blade size
Weight is 29 kg
Automatic electric brake
One-touch unlock feature
It comes with a wrench, vacuum adapter elbow, dust bag, and toolless vertical work clamp.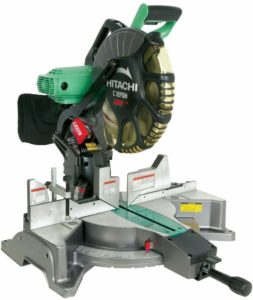 Hitachi C12RSH2 cover is very lightweight and compact. For easy working capacity, it has a non-slip grip facility. Its powerful motor can work under heavy loads. For easy blade change, it combines with a spindle lock and dust protection system. Its amazing compact sliding system eliminates the demand for rear clearance and allows the saw head to slide along fixed rails. It is very comfortable and the control is not so tough because of its soft and vibration-reducing elastomer grip. This saw allows you to cut large materials. It is called the beast of the saw, and the first time it was not made for a woodworker. But gradually, it touches the soft corner of the woodworker. It will make a max cut angle of 45 degrees left and 57 degrees to the right. This machine works pretty well as a compound sliding miter saw.
Features:
Dimension is 25*35*28 inc
Cutting capacity Max 90-degree crosscut
Fence height 5 inches to 7 inches
15 amp powerful motor
Miter cutting of wood, plastic, and thin-walled aluminum profiles
The maximum Cutting diameter is 107 mm
Adapted to work with dust-proof equipment
Weight 27 kg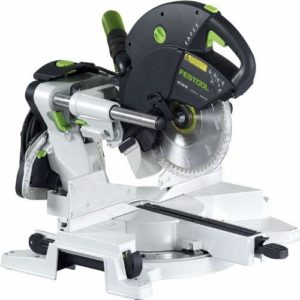 This is one of the most expensive sliding compound miter saw on the market. It has so many features and some advanced safety features. Its cut quality and accuracy are super amazing. It is one of the quietest high-powered sliding miters saw in the market. If you are looking for high quality in your trim work or if you are a DIYer or new to home improvement, this miter will help you a lot. It has a twin-column guide for accurate cuts with attaching a dust extraction system. This Festool model also has a micro-adjustable bevel angel. It is almost a full package of compact, lightweight, and convenient transportation best miter saw in the market.
Features:
Right miter 60 degrees and left miter 50 degrees
Powerful 10 amp motor and Rpm 1400 to 240
Weight is 21 kg
It comes with a wrench, hold-down clamp, and bevel.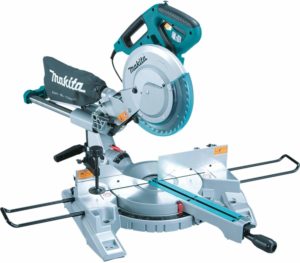 Makita LS1018L is the most powerful and best-performing saw device in our review. The saw is designed primarily for professionals, as it offers a wide range of measurement settings to be as accurate as possible. They also delight in the high power of the engine for fast and clean cutting. The material used to manufacture the instrument also plays an important role. This ensures a high degree of durability and stability at work, which makes cutting large pieces even easier. Almost one-meter pruning contributes to this, sufficient for the vast majority of conceivable works.
A significant shortage remains a considerable amount of money that has to be paid for the sawmill. However, it is more than balanced by the high quality of construction and functionality of the device. A relatively difficult adjustment of the laser can be a problem, although this fact should not be a significant problem for professional craftsmen. Makita is a great alternative for craftsmen boasting the highest quality. It ensures a precise cut so that all parts of furniture or structures will fit perfectly.
Features:
1430 W Power
Weight is 19.9 kg
The saw blade diameter is 260 mm.
10-Inch vs. 12-Inch Miter Saw: Which One's Right for You?
The basic decision is between a 10-inch miter saw and a 12-inch miter saw. For occasional do-it-yourself work and cutting smaller wooden blanks, you can do with a saw with less power, a smaller blade, and less power in terms of depth of cut and length of cut. If you use the, saw more often, or for commercial use, be sure to look for more powerful models that, in addition to better parameters and higher performance, will also offer a range of accessories that increase efficiency and facilitate daily work.
Each electric miter saw must have a traceable power value. The power consumption tells us how powerful the electric motor has, how powerful it is. For serious use, you should not purchase saws with a power input of less than 1000 W. Up to 1500 W are miter saws for hobby DIY, and from 1500 W up, we are already among powerful saws, which can be classified as professional tools. 10-inch saw comes less than 1500w and 12-inch saw comes 1500W up.
While the depth of the cut depends solely on the size and possibilities of the saw blade, the length of the cut is still dependent on the presence of the miter saw feed or its possibilities. Both values ​​are given in millimeters and are important parameters for selection depending on how large the material you intend to process on the saw is.
The manufacturers specify both values at 90 ° and 45 °. It is usually the basic starting position of the saw and its limit position, which can be reached by tilting. Perpendicular cross-sections range from about 50 mm to 100 mm and cross-sections below 45 ° from about 30 millimeters to 80 millimeters.
The 10-inch blade spins faster than the 12-inch blade.
So based on the above discussion chose what is the best miter saw for you. If you want more power and strong energy in your wood-cutting work and for professional work, you should purchase a 12-inch miter saw. If you want comparatively less power and an inexpensive one, then I recommend you buy a 10-inch miter saw.
The more expensive, more powerful, and more sophisticated the miter saw is, the less weight and noise it usually has. However, the data varies from model to model and cannot be prejudiced solely based on the purchase price. Weight ranges from an average of 10 kilograms and ends at 25 kilograms. The noise oscillates around 100 decibels - I always recommend wearing headphones to protect your sensory organ.